I've been having a really strawberry craving at the moment, not sweets or anything, just the actual fruit, they are really ripe and in season at the moment and I thought what better than to make a yummy strawberries and cream cupcake! A vanilla sponge with a dream topping/whipped topping filling...or if you're feeling extravagent you can even have really cream :O hehe, then topped with strawberry buttercream...which called for fresh strawberries. However when I went to my local supermarket they were all sold out of strawberries, I was gutted..apparently they had been doing a really big promotion on them and even been giving samples away for free..as if people dont know what strawberries taste like already! So yeah anyway I had to settle for just using strawberry jam..which was still nice but my poor strawberries didn't actually get used :( Apparently they were delicious and everybody loved them but I wasn't actually too pleased with how the frosting turned out, I wanted a sort of moussy light effect but I never manage to achieve it, I think I'm gonna try out some new recipes or something, if anyone has any good recipes for a more moussy light buttercream, that uses whipped cream I think, help would be appreciated :).





Ingredients Needed





Lining the muffin tin





Cake Batter ready to fill the liners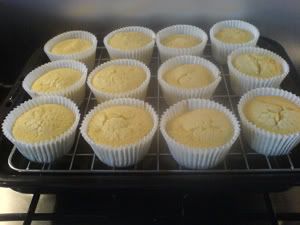 Cupcakes out of the oven





Whipping up the dream topping





Coning the cupcakes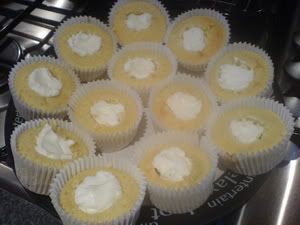 Filling the cupcakes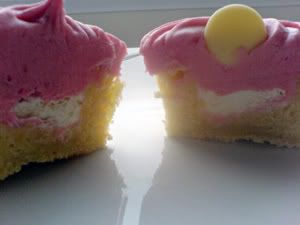 Finished Cupcake/Inside a Cupcake
Vanilla Cupcakes
Makes 12
115g unsalted butter, at room temperature
130g white granulated sugar
3 large eggs
1 teaspoon vanilla extract
210g plain flour
1/2 teaspoon baking powder
1/4 teaspoon salt
60ml milk
1. Preheat the oven to 175C and line a muffin tin with liners.
2. Cream the butter and the sugar together in a large bowl until light and fluffy, this should take about 3 minutes. Add the eggs one at a time, beating well after each addition. Beat in the vanilla extract.
3. In a separate bowl combine the flour, baking powder and salt. Add the dry ingredients to the butter and egg mixture, alternating with the milk. Beat in slowly until just combined, be careful not to overbeat!
4. Fill the muffin liners and bake for 18-20minutes or until a toothpick is inserted into the middle and comes out clean. Allow to cool in muffin tin for 5 minutes and then turn out onto a wire rack until completley cool.
Dream topping
1 sachet of dream topping

or if you are feeling extravagent!

150ml heavy cream
75ml milk 25g sugar
1. Whip up as necessary then cone out the centre of each cake using a sharp knife.
2. Fill each cake with dream topping and put aside.
Strawberry Buttercream
150g unsalted butter, at room temperature
600g icing sugar
115g fresh strawberries

*However I changed this to 200g seedless strawberry jam (jelly)*
few drops of pink food colouring
1. Beat the butter in a medium sized bowl until fluffy. Beat in the icing sugar a bit at a time on a low speed to stop it flying everywhere and then add the strawberries...or jam, beating at a low speed until creamy.
2. Add a few drops of pink food colouring until the desired colour is achieved and beat.
3. Pipe or spread onto cupcakes and decorate as desired.