Ok so recently I have become obsessed with Peanut Butter, I mean I have always liked it and everything but there is something about it at the moment that I just can't get enough of it! From sandwiches to on toast to in cereal, it can do no wrong! I've been wanting to try out a peanut butter cupcake for a while so I decided that this was the week. Anyway before I was going to actually make the cupcakes I was out in the local town centre with my friend and noticed that a major department store called 'Fenwicks' had started to import some American food...yes eventually!!! They had Reeses Peanut Butter Cups in milk, white, caramel, mini and then bars of Hersheys..I was in heaven! As I continued my trek through the store I noticed they did marshmallow fluff as well..at which point I screamed with happiness..honestly I've been searching for this stuff for ages and I've never found anywhere that does it before..so you can imagine how happy I was when I eventually found out that somewhere near me actually did it..no longer do I have to wait until I go to America next year to try marshmallow fluff..they did it in normal, strawberry and raspberry..but I decided since this was my first try I would just get the original. As I was walking to the check outs I scoped out some Reeses Pieces, which I thought looked really cute and yummy and decided would be perfect to decorate my cakes with so I decided to buy them as well, dont get me wrong though this imported food is no where near cheap! For a packet of Reeses Pieces it was £1.99...thats about $4.00 and for a box of Lucky Charms cereal..which I've always wanted to try was £6.50...thats $13.00!!! Ridiculous..I guess I'll just have to wait til next year to try out the more extravagent stuff.
So yes anyway after purchasing my lovely fluff and Reeses Pieces I baked the yummy cakes, a peanut butter sponge with a banana buttercream..I tried adding some whipping cream to my buttercream and it made it a much better texture and far easier to pipe with, eventually! All I can say is delish!!





MMM Reeses Pieces and Marshmallow Fluff (I'm sure I'll find some use for this..hehehe)





Actual Ingredients Needed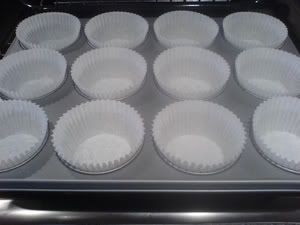 Lining a muffin tin with liners





Beating the peanut butter and butter together





The finished cake batter





Filling the muffin liners





Cupcakes out of the oven





Making the buttercream





Finished cupcakes!



Peanut Butter Cupcakes
Makes 15

130g chunky peanut butter
115g butter
330g soft brown sugar
1 teaspoon vanilla extract
2 eggs
250g plain flour
2 teaspoon baking powder
1/2 teaspoon salt
240ml milk

1. Preheat the oven to 190C and line a muffin tin with liners, set aside.
2. In a large bowl cream the peanut butter and the butter together until creamy and softened. Gradually add the brown sugar, beating after each addition until light, about 2 minutes.
3. Add vanilla & eggs, one at a time, beating until fluffy and well incorporated.
4. In a separate bowl sift together the flour, baking powder and salt; add alternating with the milk. Beating after each addition on a low speed until just incorporated, be careful not to overbeat.
5. Fill the muffin liners about 3/4 full with the cake batter and bake for about 20 minutes or until a toothpick is inserted into the centre of the cupcake and comes out clean. Allow to cool 5 minutes in muffin tin and then turn out onto a wire rack. Make sure cakes are properly cooled before icing.


Banana Buttercream

360g icing sugar
100g butter, softened
1 teaspoon vanilla extract
5 tablespoons heavy (whipping) cream
1 banana, chopped
few drops of yellow food colouring
Reeses Pieces (or other decoration)

1. In a medium sized bowl whip together the butter and the sugar until creamy and smooth.
2. Add the vanilla and the whipping cream and beat. If you feel like you need to add more cream, add it by the teaspoon, testing the buttercream's consitency every few seconds.
3. In a separate bowl, using a fork, mash the banana.
4. Add the banana to the buttercream mixture and mix in yellow food colouring, until desired colour has been achieved. Pipe onto cakes and decorate as desired.